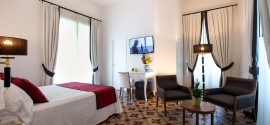 Home
Amalfi Luxury House derives from the restoration of an old house dating back to the 1700's and situated just a short distance from the Duomo.
All rooms are tastefully furnished and have original floorings. There is a terrace with a view which overlooks the heart of Amalfi and from where you can catch a glimpse of the sea.  The ideal place for breakfast, an aperatif or to relax after dinner in total privacy.
Every room has a king size bed, air conditioning and ensuite bathroom, satellite TV, mini bar and wi-fi.
Amalfi Luxury House was designed to provide guests with a unique classic style holiday typical of the Amalfi Coast.